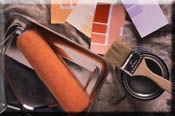 January 2012,
Jos. Ward Painting Co. would like to thank all our customers for their business last year. We also thank our vendors for the service and products they provide. A special thanks goes out to all the employees who make our company successful. We believe it takes everyone involved in a project to make it successful. From the suppliers, mechanics & project foreman in the field to the management team in the office it is a team effort that produces a project we can all be proud of.
-------------------------------------------------
With the end of 2011 we are proud of our accomplishments in this ever evolving construction industry. While the economy has been hard on the business environment it is our commitment to excellence and performance that keeps our customers coming back. We will continue to provide our clients with quality workmenship at competetive prices. We are constantly bidding work and looking for new projects to take on. We look forward to meeting potential new customers and hope to hear from you soon.
As we look forward into the upcoming year 2012 several new projects will begin. Work at St. John's Hospital's in both Missouri & Illinois will begin. We also continue to work closely with our existing customers to maintain their properties.
We encourage all companies and institutions in need of an estimate to call us. We will provide an estimate free of charge for your coatings and remodeling projects. If you are a facilities manager, construction manager or building owner we will provide you with the professional service and knowledge that you can count on.
Thanks!