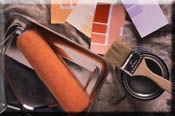 Jos. Ward Painting Co. is a full service COMMERCIAL/INDUSTRIAL painting contractor. Our service includes coating interiors and exteriors of manufacturing plants, utility companies, office buildings, hospitals, schools, churches, apartment buildings, tenant finish and retail stores.
We offer the highest quality work at competitive prices for commercial, industrial applications. Our painters are professionals who provide clean and efficient service. All of our work is guaranteed.
On this website you are able to learn more about our services by retrieving a list of references, and viewing samples of our work in our online "Picture Gallery." You may also research frequently asked questions about painting, types of paints and color selection. In addition, we welcome you to use our e-mail service or call our number and contact us with your painting needs and request an estimate.