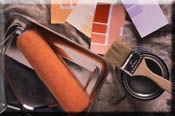 We are a fully licensed and insured company. We employ only professional craftsmen. We have coated some of the most prestigious landmarks in the metropolitan St. Louis area. Some of our completed projects include: St. Louis Art Museum, Muny Opera, St. Louis Zoo, Savvis Center, The Edward Jones Dome, America's Center, Busch Stadium, Mills Mall, West County Center and Union Station. We are based in St. Louis and will travel for large commercial and industrial projects.
Founded by Joseph A. Ward in St. Louis Missouri in 1870, Jos. Ward Painting Co. has consistently ranked among the top painting contractors in the St. Louis metropolitan area and mid-west region. The measure of success is a reflected in many ways: repeat business, volume, financial capability, longevity, dependability and integrity. By these measures Jos. Ward Painting Co. continues to perform in the painting industry.
Company Overview
Jos. Ward Painting Co. is a full service industrial and commercial painting contractor. We perform our services for new construction work and facility owners alike. The company services all spectrums of the business community. Facilities include: manufacturing, utility, civil, healthcare, institutional, retail & tenant finish. We perform the following applications; painting, special coatings, tank liners, multi-colors, floor applications, sand blasting, water blasting, lead abatement, Duroplex, Belbian, wallcoverings, electrostatic, faux finishes, and taping.
COMPLETED PROJECTS OVERVIEWINDUSTRIAL
We have completed projects such as 1,000,000 gallon water tanks which included a near white sandblast, epoxy primer & urethane top coat. Bridges and overpasses include sandblast and vinyl paint systems. Sewage treatment plants include clarifyer and holding tanks, sandblast with coal tar epoxy and other special coatings.
Steel hoppers, silos and other industrial steel structures have been completed with epoxy, urethanes, and industrial enamels. Manufacturer plants often require fast paced schedules during shut downs. We have performed large facility repaints using dryfall for ceilings and coatings as requested for wall work.
FLOOR APPLICATIONS
Floor applications include epoxy floors consisting of 100% solids and self leveling products. Concrete stained floors and clear sealers are included in our floor applications. We have applied epoxy floors in aircraft hangers and manufacturing plants. Concrete stains have been applied in restaurants and office complexes adn clear sealers for warehouses or retail floors.
HEALTH CARE
We take pride in our health care operations. We have completed both new and remodel hospital projects. When working in existing facilities it is our goal to communicate with the owner to insure all patient care needs are met.
Nursing homes and satellite physician offices
require special attention to detail. We have completed both new and remodel work for these facilities.
INSTITUTIONAL
Correctional facilities completed range from 900 to 1100 bed facilities. University projects completed include law, medical and science buildings as well as dormitory facilities. Public schools completed include new high schools and new grade schools. When schedules are tight, count on us to complete repainting of existing schools during the summer breaks.
RETAIL
Retail operations are an important part of our business. We accelerate at upscale department store finishes. From brand new facilities to remodels we take pride in our wallcovering and paint installations. Retail shops, major department stores and malls are all projects we have completed.
OPERATIONS
The focus of Jos. Ward Painting Co. operations is total quality management. Continued training, education and performance evaluation are all part of the process. The result is quality workmanship, professional management and timely completion on our projects. Through this process we have developed long term working relationships with owners and contractors alike.
SAFETY
Safety benefits everyone involved, from the employees working on site to the end user. Jos. Ward Painting Co. continually tests, educates and monitors the safety performance of the company and its' employees. Job site inspections and formal training occur on a regular basis. We are committed to a safe working environment.
PARTNERSHIPS
We believe that a successful project begins with a partnership between Jos. Ward Painting Co. and our clients. From the owners representative through the project manager to the mechanic in the field, everyone is involved and part of the team. We believe a successful partnership helps coordinate projects and eliminate duplication of efforts.

CONCLUSION
We use only the highest quality materials and provide the finest workmanship in the industry. In addition, you will never need to worry about our craftsmen on your construction site. We are fully covered with liability and worker's compensation insurance.
Our customer's needs and requirements dictate the best application based upon cost and timing. Contact us today and let us help you with your next painting project.